Motor Trike Announces Trike for 2018 Honda Gold Wing Motorcycle Models
2018-06-05: For Immediate Release
(TROUP, Texas) Motor Trike, Inc. announces the release of its latest trike conversion kit for 2018 Gold Wing models. The Motor Trike "Condor" is an Independent Rear Suspension (IRS) kit, marking the fifth Motor Trike IRS conversion for the range of Gold Wing motorcycles. Motor Trike highlights that the Condor is the exclamation point on an impressive line of trike conversions for the Gold Wing, exemplifying Motor Trike's commitment to fulfilling its customers' needs.
The Condor also marks the first time that riders will have options for either an automatic transmission (DCT) or a traditional manual transmission on a trike conversion for their Gold Wing bikes. "This is what you get when you combine the world's best performing touring motorcycle with the world's best trike company," said Motor Trike's J.D. Vey.
Motor Trike R&D raised its signature engineering standards for the Condor with technical improvements that go hand-in-hand with the new motorcycle's specifications. However, Motor Trike maintained Gold Wing vehicle systems that it knew riders valued—such as ABS and OEM electronic trunk release. The company also maintained the OEM saddlebag open indicators but adapted it for the trunk door. Motor Trike emphasized a seamless front-to-back end design, matching body lines to create a conversion kit with forward design elements.
With the launch of the Condor, Motor Trike is now making IRS conversions covering three generations of Gold Wing bikes and 31 model years, offering a trike conversion for all Gold Wing riders. "This is an amazing machine, with both handling and comfort," said Vey.
Motor Trike is currently taking orders for the Condor at an introductory price of $7,999.99 per conversion kit, for a limited time. All trike kits include Motor Trike's three-year/60,000-mile warranty.
The Condor is available through Authorized Motor Trike Dealers. Customers may locate their nearest dealers to order: www.motortrike.com/TrikeDealerLocator.aspx.
The Motor Trike Condor will be on display at the Americade Motorcycle Rally (June 4 - 9).
Product Information
www.motortrike.com/TrikeGoldWingCondor.aspx
Condor Standard Features
Fits 2018 Honda Gold Wing Models
IRS (Independent Rear Suspension) with over 4" Suspension Travel
Torque Thrust Polished Aluminum Wheels
9.2 ft3 Total Storage with 12-Volt Power Source to Charge Devices
Trunk Door Designed with Hidden External Hinges, OEM Electronic Trunk Release, & "Open" Indicator
Trunk Door-Mounted Light to Conveniently Shine onto Cargo
Motor Trike 3-Year/60,000 Mile Factory Warranty
Condor Available Options
Premium Wheel Upgrades
Performance Machine Wheel Upgrades
Fender Bras with Optional Embroidery
Front End 6.0 Degree Rake Kit
ABS Integration Kit
Parking Brake Kit
One-Piece Weight-Bearing Aqua Shield Running Boards
Aqua Shield Fog Lights
Aqua Shield Bras
Aqua Shield Color-Match Paint
Trailer with Complementary Styling
Trailer Hitch Assembly
Trailer Wiring Harness with 6 Pin Connector
Chrome & Black Nerf Bumpers
Chrome Peterson & Kuryakyn Light Bars
Echo Exhaust
Trunk Carpet
Embroidered Trunk Mat
Trike Cover
Custom/Multi-tone Paint
Condor Specifications
56" Overall Width
72" Wheelbase Length
111" Overall Length
113" Length with Rake Kit
1,120 lbs Total Weight
9.2 Cubic Foot Storage Total
19.375" x 13.125" Trunk Door Opening
Unequal Length Upper and Lower Control Arm Suspension
Polyester Resin Fiberglass Body
Condor Photos
Media requests for high-resolution photos may be sent to contact below.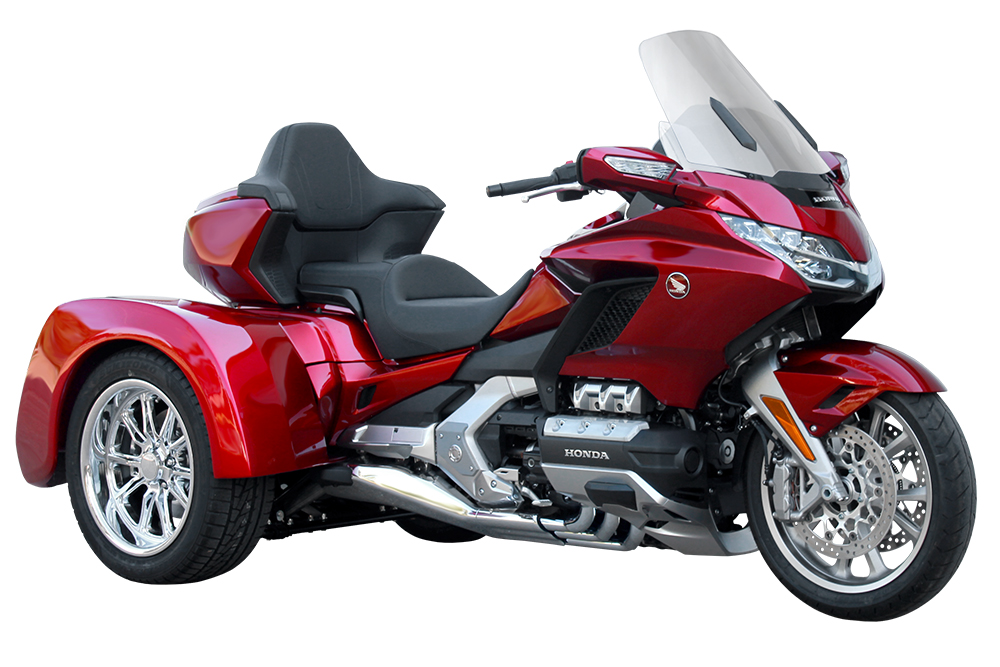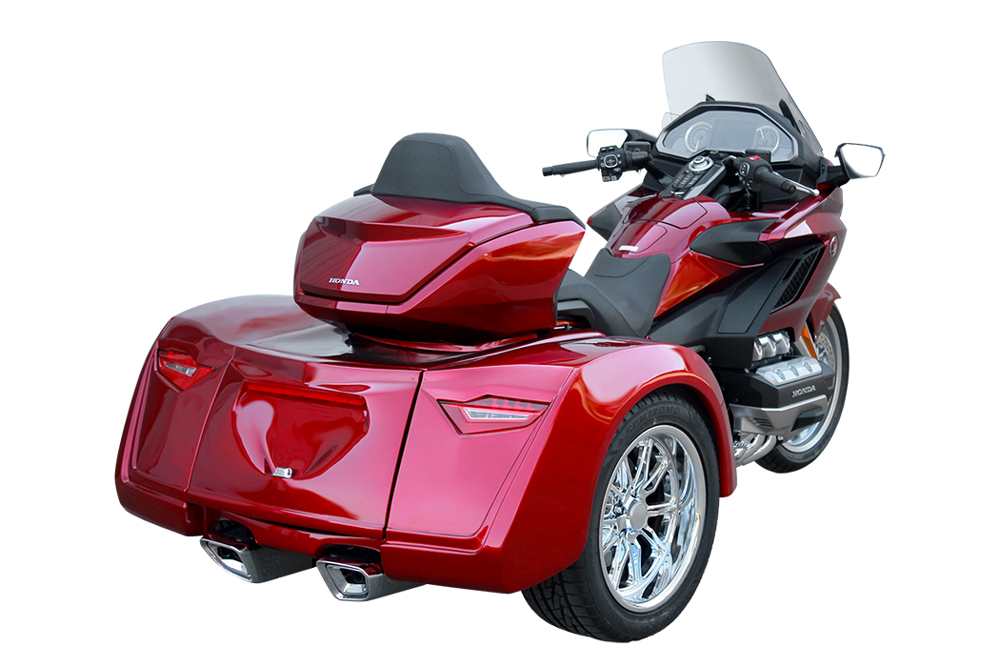 About Motor Trike
Motor Trike, Inc. has been manufacturing conversions that transform two-wheeled motorcycles into three-wheeled trikes for over 23 years. Located in Troup, Texas, Motor Trike is the nation's leading trike conversion manufacturer. They specialize in converting Honda, Harley Davidson, Victory, Kawasaki, Triumph, Yamaha, Suzuki, and Indian motorcycles into trikes that you would be proud to ride. Motor Trike products are developed in-house by an exceptional team of engineers with vast knowledge and experience in suspension and chassis design. With a network of over 250 dealers, It's easy to enjoy a tradition of quality and a lifetime of fun. Visit www.motortrike.com.
Contact
Media Relations
22667 FM 15 Box 611
Troup, TX 75789
marketing@motortrike.com