Motor Trike Announces Trike for Honda CTX700 Motorcycle Models
2016-08-08: For Immediate Release
(TROUP, Texas) Motor Trike, Inc. announces the release of its second reverse trike conversion kit. The "Hornet RT," as named by Motor Trike, converts the Honda CTX700 motorcycle into an unprecedented, automatic trike, adaptable for new bike-to-trike riders.
With the cost-sensitive MSRP of the CTX700 motorcycle, the Hornet RT trike conversion offers an accessible cruising option at an affordable value. The Hornet RT trike kit offers a high-performance Independent Front Suspension—or IFS—design that is set up for optimal ride quality, and one-to-one steering for great driving response, handling, and turning radius. The kit's ABS-integrated disc brakes provide great stopping power and ultimate control for the rider. Meanwhile, the Hornet RT's low and wide body lines create a sporty and aggressive look, making the trike conversion a stylistic departure from traditional trike bodies.
Motor Trike's IFS system equips riders with a new experience free of hesitation in comparison to other offerings in the reverse trike market. The Hornet RT also offers riders the convenience of over 8.5 cubic feet of total storage space with a 12-volt power source in-trunk to maximize their travel experience. The trunk door design utilizes hidden external hinges that do not occupy the interior storage space, therefore eliminating helmet scratches or other cargo damage, and features a door-mounted light that makes accessing trunk items more convenient. The Hornet RT offers a host of standard features and available options that riders can customize for a Motor Trike truly fitted for them.
Motor Trike is currently taking orders for the Hornet RT at $7,995.00 per conversion kit. All trike kits include Motor Trike's three-year/60,000-mile warranty.
The Hornet RT is available through Authorized Motor Trike Dealers. Customers may locate their nearest dealers to order: www.motortrike.com/TrikeDealerLocator.aspx.
The Hornet RT trike will also be on display at the Sturgis Motorcycle Rally (Aug. 8 - 14).
Product Information
www.motortrike.com/TrikeHondaCTXHornetRT.aspx
Hornet RT Standard Features
Fits All 2013 - Current Honda CTX700 Models
Automatic Transmission
IFS (Independent Front Suspension) with over 4" Suspension Travel
Silver 17" Aluminum Wheels
Disk Brakes
3.23 ft3 Total Storage with 12-Volt Power Source to Charge Devices
Trunk Door Designed with Hidden External Hinges
Trunk Door-Mounted Light to Conveniently Shine onto Cargo
Motor Trike 3-Year/60,000 Mile Factory Warranty
Hornet RT Available Options
17" Aluminum Wheels in Black or Chrome
Fog Light Pods that Provide Seamless Body Line with Trike Body
Fog Light Kit with Wiring Harness
ABS Integration Kit
Trunk Carpet
Custom/Multi-tone Paint
Custom Front Grill
Chrome Front Bumper
Hornet RT Specifications
62.5" Overall Width
60.2" Wheelbase Length
98.5" Overall Length
790 lbs Total Weight
3.23 Cubic Foot Storage Total
14.5" x 10.7" Trunk Door Opening
Unequal Length Upper and Lower Control Arm Suspension
Polyester Resin Fiberglass Body
1:1 Steering System
Hornet RT Photos
Media requests for high-resolution photos may be sent to contact below.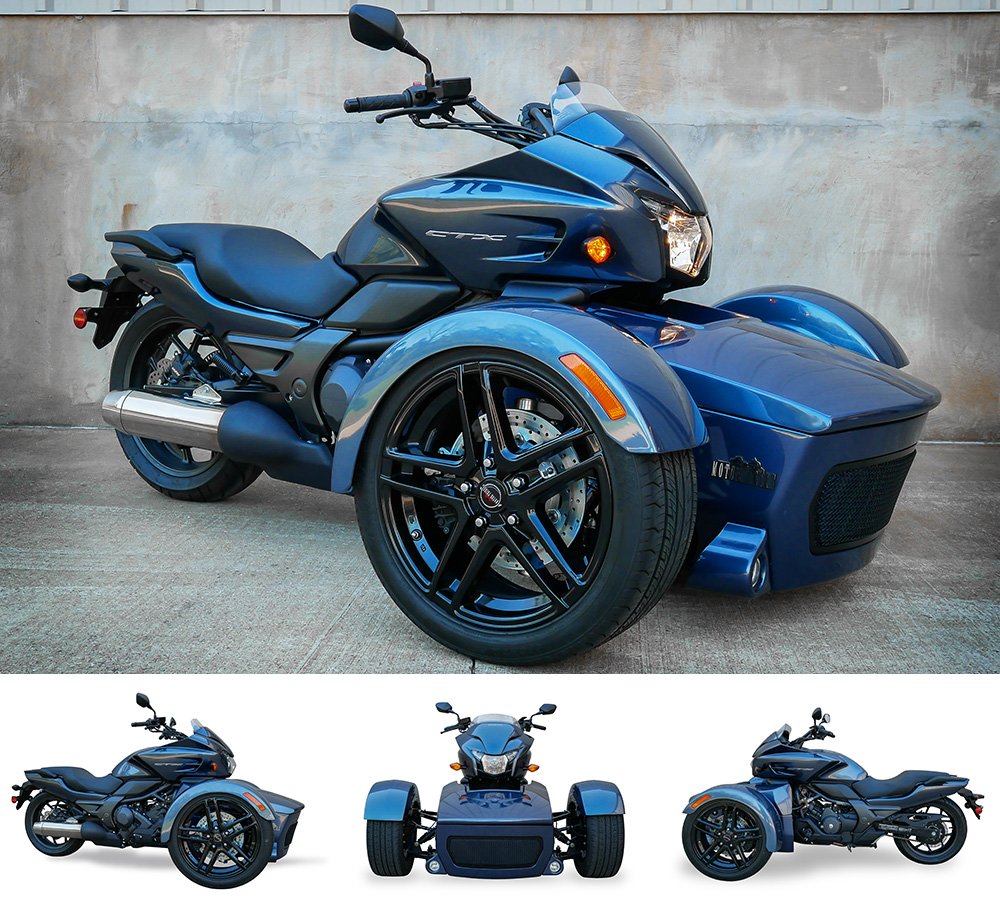 About Motor Trike
Motor Trike, Inc. has been manufacturing conversions that transform two-wheeled motorcycles into three-wheeled trikes for over 21 years. Located in Troup, Texas, Motor Trike is the nation's leading trike conversion manufacturer. They specialize in converting Honda, Harley Davidson, Victory, Kawasaki, Triumph, Yamaha, Suzuki, and Indian motorcycles into trikes that you would be proud to ride. Motor Trike products are developed in-house by an exceptional team of engineers with vast knowledge and experience in suspension and chassis design. With a network of over 250 dealers, It's easy to enjoy a tradition of quality and a lifetime of fun. Visit www.motortrike.com.
Contact
Media Relations
22667 FM 15 Box 611
Troup, TX 75789
marketing@motortrike.com